Moon Skin Pack March 26th 2003
Wez's Hardwar World Skin pack made using the spr to bmp converter by PlaguedMind, paintshop pro & the moon wallpaper in windows xp layered over the top of the original hardwar skins.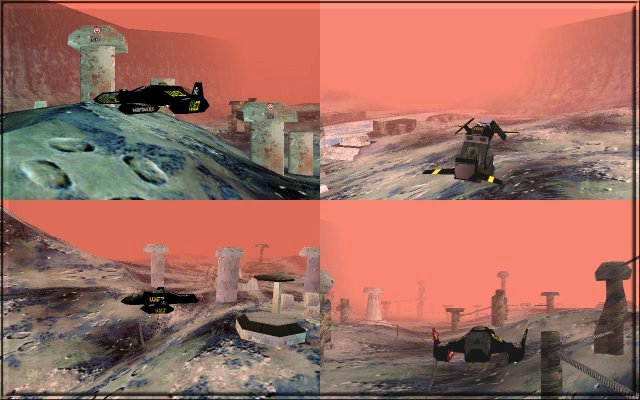 I've upload each file separately for the skin
save them to your hardwar installation folder
e.g. c:\program files\hardwar\
Disclaimer these textures may be to much for your graphics card to handle.. if they cause hardwar to crash
delete all files ending in .spr from your hardwar folder to revert to your original hardwar theme.

Updated Skinpack.
The first set of skins where crashing people running in software mode.. plaguedmind updated his spr2bmp and i've fixed and put all the skins including a replacement for water.. which is a black lava version now.
I have made the pack into a single self extracting zip.exe which defaults to extract to
c:\program files\hardwar\
but you can change the folder name if you need to during the extraction.
Updated pack download 1.47 mb
Individually zipped files
Crater center floor wall walltop
Dam mainwall backwall top
Building textures texa texb texc texd texe texf texg texj
River edging wall1 wall2
tunnel entrance floor roof wall
black lava water

This is my first attempt at the skin and i'll have to work on refining some of the textures.
I would suggest starting with the crater floor wall walltop & center downloads first try them out
if you like them add the others to spread the theme onto the buildings.
Overall I think it makes misplaced optimism look more like a battle scarred very dusty moon..